Smartwatches are gradually replacing traditional watches. All thanks to their enhanced 'smart' features which help make our lives easier and healthier. They act as our personal assistants and help us achieve our fitness goals. 
However, many people often think that smartwatches are generally expensive and you will have to shell out a lot of money to get one! But you will be surprised to know that the smart watch price can range from anywhere between 5k to 50k, and even more! 
If you are also looking for some budget smartwatches then here's the list of some of the best smartwatches which are high on features but low on price. 
boAt Xplorer
Perfectly designed for all those who hustle and are always up for new adventures, this smartwatch comes packed with gorgeous looks and many smart features. The 33mm screen with in-built GPS allows you to travel on the roads less traveled with full confidence. It acts as your guide and helps you explore hidden trails without losing track. The strong build and the 5ATM water-resistance rating protect it against scratches and splashes. The real-time weather forecasts further help you plan your day. 
With 24X7 heart monitoring and wellness mode, you can be on top of your overall health. 
The 8 active sports modes further help you track your activities. This smartwatch for girls also comes with a menstrual cycle tracker feature which helps women to keep a check on their cycle. 
The integrated controls allow you to manage your music and control the camera with a single tap on your wrist. 
Fitbit Sense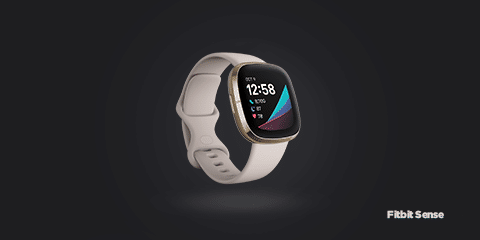 Sleek and attractive design, accompanied with many special features, this smartwatch is a good match for those who like to keep it stylish, as well as need something with a diverse range of health monitoring features. 
It offers a round pebble shape with a touch 1.58" display but some people find it a little unresponsive. When it comes to health-related features, you will be surprised to know what all it can track. Apart from the standard counting of steps, distance covered and calories burned, you can also use various activity modes to be on the top of your exercise routine. 
This fitness tracker cum smartwatch not only monitors your heart rate but also has the ability to take ECG ratings. It can also track your skin temperature as well as tell you about your blood saturation oxygen level (SpO2). 
Another interesting feature of this watch is the ability to track stress. It does that in two ways – by using the heart rate technology to track a daily stress score and taking a fixed reading by using the Electrodermal Activity Sensor (EDA). 
It is also helpful in tracking your sleep. This can be really helpful in maintaining a healthy sleep routine. 
Amazfit Bip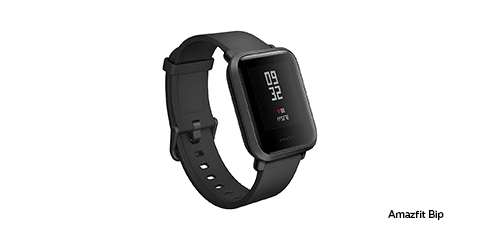 Amazingly designed to take your fashion game up a notch, this smartwatch is loaded with many interesting features. The lightweight build and the always-on display make it a fit for comfortable everyday usage. It comes with a 1.28" display with a resolution of 127×127, and a 2.5D Corning Glass. The reflective color touch screen allows you to be in charge all the time! 
The highlight of this smartwatch lies in its long battery life. Packed with a 190mAh lithium polymer battery, you can use the Amazfit Bip for up to 30 days on a single 2.5-hour charge. So no more plugging it up occasionally. 
With this on your wrist, you can easily receive notifications for messages, emails, and incoming phone calls. This ensures that you never miss anything important, even when you do not have your phone in front of your eyes. 
Speaking of health features, it comes with 4 active sports modes for outdoor and indoor running, walking, and outdoor cycling. Clearly, if you are into some hardcore exercises, then this is the perfect watch for you. It monitors your heart 24X7 and also supports a sleep tracking feature that helps you get a detailed overview of your sleep cycle. 
Noise Colorfit Pro 3
Cheerful design and a strong build – this smartwatch is a good option for you all! It comes with a TruView 1.5" TFT touch screen that displays bright visuals in vivid colors. You can choose watch faces from the available range of customizable smartwatch faces and style your watch as per your mood & occasion. The waterproof design with 5 ATM rating allows you to wear it to pool parties and beaches. 
It comes with a 24X7 heart rate monitor and you can also use it to check your blood oxygen saturation levels (spO2). It also comes with a sleep tracking feature. The sleep monitor tracks and calculates your total sleep while providing a breakdown in terms of number of hours in light, deep and REM sleep. 
The 14 dedicated sports modes with auto sport recognition and smart Running Partner feature ensures that your every move is tracked and accounted for. 
This smartwatch for men is not only good for tracking physical health but can be also helpful in calming yourself down after a stressful day. The integrated breathing mode helps you relax and unwind. 
It also supports smart notifications for calls and messages. 
GOQii Smart Vital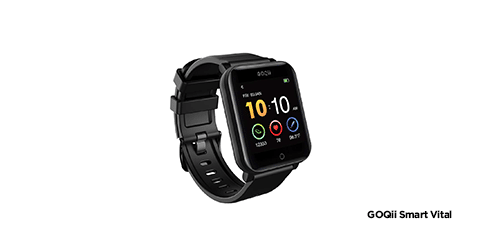 Perfect for all the fitness enthusiasts around the town, this fitness tracker will help you be on the top of your fitness routine. It comes with a 1.3" color display with full touch screen. It supports multiple customizable smartwatch faces which can be used to don a new look, everyday. 
With this on your wrist, you can easily monitor your heart 24X7 and track all-day activities like steps, distance, and calories burned. You can also use it to check your blood oxygen saturation levels (spO2), body temperature, and blood pressure. The 18 exercise modes help you with real-time data of your activity and assist you in achieving your fitness goals. 
It also supports auto sleep tracking which helps you with data regarding your sleep cycle. 
You can control your music with the watch and get notifications for messages and calls directly on your wrist. It gives you up to 7 days of battery life under normal usage. 
We hope that your quest for the perfect smartwatch has finally come to an end with this list!

David Shaner is a Senior Author of Best FREE Reviews. He lives in the United States of America. He's best known for Technical Content Writing. He also writes reviews about various products online, gathering information from thousands of customers and compiling them into one.