Are you looking for upgrading your CPU with the Intel Core i7-4790K? if that's so, what kind of motherboards would be best compatible with this processor? Well, here we are providing you with a list and description of the best motherboards for i7 4790K. You can go through the products below and choose the best and compatible motherboard for your i7- 4790K.
Reviewing the products and choosing the best motherboard for your PC is the most crucial step. So, you need to carefully analyze and plan accordingly before purchasing a motherboard.
5 Best Motherboards for i7 4790K
This motherboard is the best budget-friendly device for i7- 4790K. Along with this it also delivers awesome features. Its CPU supports 4th and 5th Generation Intel Core™ Processors, and Intel Pentium and Celeron Processors for Socket LGA1150. It comprises of Intel Z97 Express Chipset. Its main Memory supports four DDR3 DIMMs 3000*(*OC) MHz with a maximum capacity of 32 GB. It allows dual-channel memory architecture. It also supports non-ECC, un-buffered memory, and Intel Extreme Memory Profile (XMP).
The slots provided by this motherboard are as follows:
2 x PCIe x 16 slots
2 x PCIe 2.0 x1 slots
2 x PCI slots
Its Multi-GPU includes:
1x VGA port, allowing a maximum resolution of 1920×1200 @60Hz, 24bpp
1x DVI-D port, offering a maximum resolution of 1920×1200 @60Hz, 24bpp
1x HDMI port, allowing a maximum resolution of 4096×2160@24Hz, 24bpp/ 2560×1600@60Hz, and 24bpp/1920×1080@60Hz, 36bpp
Its SATAIII controller is integrated with Intel® Z97 chipset which supports up to 6Gb/s transfer speed with six SATAIII ports (SATA1~6) by Z97. Its RAID includes SATA1~6 that supports Intel® Rapid Storage Technology enterprise (AHCI/ RAID 0/ 1/ 5/ 10) by Intel® Z97 allowing Intel Smart Response Technology, Intel Rapid Start Technology, and Intel Smart Connect Technology. It also offers Intel Core processors on Windows 7 and Windows 8.
Its Intel® Z97 Express Chipset includes USB as follows:
– 4x USB 3.0 ports (2 ports provided on the back panel, 2 ports from the internal USB connectors)
– 8x USB 2.0 ports (4 ports provided on the back panel, 4 ports from the internal USB connectors)
It delivers supreme Audio with a chipset integrated by Realtek® ALC887. This includes flexible 8-channel audio with jack sensing and is also compliant with Azalia 1.0 Spec. It comprises of LAN that supports one PCI Express LAN 10/100/1000 Fast Ethernet by Realtek® RTL8111G.
Its Internal I/O Connectors are as follows:
– 1 x 24-pin ATX – its main power connector
– 1 x 8-pin ATX 12V – its power connector
– 6 x SATA connectors
– 2 x USB 2.0 connectors (supporting extra 4 USB 2.0 ports)
– 1 x USB 3.0 connector (supporting extra 2 USB 3.0 ports)
– 2 x 4-pin CPU fan connectors
– 1 x 4-pin system fan connector
– 2 x 3-pin system fan connectors
– 1 x Clear CMOS jumper
– 1 x Front panel audio connector
– 2 x System panel connectors
– 1 x Chassis Intrusion connector
– 1 x TPM module connector
– 1 x Serial port connector
– 1 x Parallel Port connector
Back Panel I/O Ports consists of:
– 1 x PS/2 keyboard port
– 1 x PS/2 mouse port
– 4 x USB 2.0 ports
– 2 x USB 3.0 ports
– 1 x RJ45 LAN port
– 1 x 3 is included in one audio jack
– 1 x VGA port
– 1 x DVI-D port
– 1 x HDMI port
The motherboard BIOS allows you with  "Plug & Play" BIOS which helps in detecting the peripheral devices and expansion cards of the board automatically. It also provides a Desktop Management Interface(DMI) function recording your motherboard specifications.
Its dimension includes 12 in. x 8.7 in. (30.5 cm x 22 cm) ATX Form Factor with 6 mounting holes.
Specifications 
It purely allows 4th and 5th Gen Intel® Core™ / Pentium® / Celeron® processors for LGA 1150 socket
It provides DDR3-3000(OC) Memory
USB 3.0 + SATA 6Gb/s
Delivers Military Class 4: Top Quality & Stability
Includes OC Genie 4: Overclock in 1 Second
Involves Click BIOS 4 allowing your system to easily Fine-tune.
Allows 4K UHD Support: Ultra-high Definition Visual Experience
Includes Multi-GPU: AMD CrossFire Support
Command Center: Control & Customize
PC Settings allows you with:
Fast Boot feature – Quickly Boot Up & Enter OS in A Few Seconds
Smart Utilities: Easily Setup & Configure Intel® Technologies
This motherboard offers you amazing features at its lowest price. Its all-around protection offers you the best quality, reliability, and durability. It enables precise power control and long-lasting stability. This allows great accuracy which reduces wastage of energy and also improves system stability. ASUS ESD Guards acts as an active protective circuit design ensuring electrostatic discharges are properly grounded, delivering greater component longevity.
ASUS high-quality solid state capacitors guarantee a 5,000-hour lifespan, similar to 2.5 times longer than traditional capacitors. ASUS motherboard back I/O panels are formulated from strong and corrosion-resistant stainless steel, bonding with a thin layer of chromium oxide to improving its anti-corrosive properties.
Media-renowned user-friendly UEFI BIOS from ASUS provides the user with the smoothest mouse-controlled graphical BIOS and features more intuitive functions accessing you to favorite BIOS pages and frequently-accessed settings through custom shortcuts. You can even jot down quick notes in BIOS for future reference, view an activity log of setting changes and their modifications, and rename SATA ports. EZ Mode gives a brand new look, upgraded with extra-friendly capabilities like detailed fan controls, SATA information, XMP profile settings, and fast clock adjustment. Altogether, these complete your BIOS experience.
USB 3.0 Boost technology allows a USB device's transmission speed to boost up to 170%, including rapid USB 3.0 performance. For compatible USB 3.0 peripherals, ASUS software automatically progresses data rates without any user interaction.
GPU Boost of ASUS accelerates the integrated GPU for extreme graphics performance. The user-friendly interface facilitates flexible frequency adjustments. It easily helps in delivering stable system-wide upgrades for every use.
ASUS AI Suite 3 allows an extraordinary user experience through a clearer and more attractive interface with an aid of larger monitors. It strengthens exclusive ASUS features into one package which is simple to use, allowing you to supervise overclocking, energy consumption, fan speeds, voltages, and more. This all-in-one app offers you a diverse and easy-to-use functionality, without switching back and forth between different utilities.
Specifications
ASUS 5X Protection: All-round protection allowing the best quality, reliability, and durability
USB 3.0 BOOST (UASP Support): This enhances 170% faster transfer speeds compared to traditional USB 3.0
Network iControl: It offers Real-time network bandwidth management
Fan Xpert: It includes Dedicated CPU and case fan controls
CrashFree BIOS 3: This enables to restore corrupted BIOS data from USB storage
AI Suite 3: Allows One-stop access to innovative ASUS features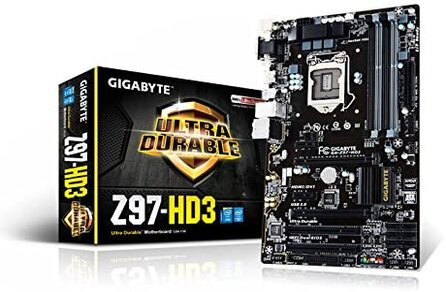 This motherboard provides you with the latest 4th & 5th Generation Intel® Core™ processors, blending unique features and technologies offering the absolute ultimate platform for your next PC build.
Smart Quick Boost provides users with different levels of CPU frequencies allowing them to achieve desired system performance. Advanced CPU OC provides users to set CPU base clock, frequency,
and voltages, and integrated graphics frequency.
Advanced DDR OC permits users to set the memory clock. Remote OC enables users to remotely control their desktop PC with a powerful suite of software functions. Overclocking and system tweaking, system monitoring with the ability to remotely power down/reset the PC is also available when needed.
GIGABYTE LAN Optimizer is developed to authorize the user to manage different types of network traffic so that data streams like web browsing, HD media, or online gaming can be prioritized, foregoing over large data downloads that suppress overall network bandwidth.
GIGABYTE DualBIOS™ means that your motherboard provides you with both a 'Main BIOS' and a 'Backup BIOS', allowing users protected from BIOS failure due to virus attack, hardware malfunction, inappropriate OC settings, or power failure while the process is getting updated.
HDMI™ is a High-Definition Multimedia Interface that allows you up to 5Gb/s video transmitting bandwidth and 8-channel high-quality audio all through a single cable. It enables to transmission of outstanding and exceptional, uncompressed digital video and audio. The crispest rendering of digital content up to 1080p is ensured without the quality losses associated with analog interfaces and their digital-to-analog conversion.
DVI (Digital Visual Interface) is a video interface standard designed for transmitting uncompressed digital video data and to maximize the visual quality of digital display devices, such as digital projectors, LCD monitors, etc. Along with this, the DVI interface is compatible with HDCP (High-bandwidth Digital Content Protection).
Specifications
Enables 4th and 5th Generation Intel® Core™ processors
Provides extreme multi graphics support
Allow good HD Audio support
Provides LAN with high ESD Protection
Offers GIGABYTE LAN Optimizer
Includes Long lifespan Durable Solid caps
Involves APP Center including
EasyTune™ and Cloud Station™ utilities
Enables GIGABYTE UEFI DualBIOS™
Maximus VII Ranger features allow the latest Intel® Ethernet for faster, smoother, and offers you with better gaming experience always. Intel's LAN provides you with the double advantage of reducing CPU overhead and providing exceptionally high TCP and UDP throughput. This reduces the processor's workload, allowing more power for your game and your gameplay significantly.
Advanced signal-coupling technology and premium surface-mounted capacitors improve throughput is included in this motherboard. Also provides surge-protected and electrostatically-guarded components (ESD Guards). This protects your motherboard from lightning strikes and static electricity.
Exclusive GameFirst III feature is upgraded helping you to assign top priority to game packets and allow more bandwidth to the game, offering you the best online gaming experience.
Cutting-edge isolation technologies minimize electromagnetic interference (EMI) and exceptionally premium components deliver first-class audio which is great as a dedicated soundcard.
ROG's TrueVolt USB design delivers a rock-steady 5V supply to the front and back USB sockets with no drop-outs.
Specifications
Processors ready with Intel® LGA1150 4th, New 4th & 5th-Generation Core™ i7/Core™ i5/Core™ i3/Pentium®/Celeron®
Includes Intel® Z97 Express Chipset with M.2 which supports (up to 10Gb/s data-transfer)
Allows Intel™ Ethernet + LANGuard + GameFirst III –This is game networking reaching the next level.
SupremeFX 2014 + Sonic Radar II – allows you with new and upgraded audio
KeyBot + TrueVolt USB – provides you with instant keyboard upgrade and rock-steady 5V USB supply
USB UEFI BIOS and Secure Erase – This feature offers award-winning simplicity and factory-fresh conditioning for excellent performance
The MSI Z97 PC Mate motherboard utilizes the Intel LGA 1150 CPU socket. It also offers the DDR3 memory type, with maximum speeds of up to 2400 MHz, and 4 DDR3 slots enhancing a maximum total of 32 GB RAM.
The MSI Z97 PC Mate includes 6 SATA 3.0 hard drive slots. This allows theoretical data transfer speeds of up to 6GB/s, as compared to the 3GB/s of SATA 2.0.
This motherboard provides you with onboard graphics allowing integrated graphics when paired with a compatible CPU that supports them. There includes 2 PCIe x16 slots on this motherboard making it capable of accommodating the latest graphics cards. The MSI Z97 PC Mate allows up to 2 AMD Crossfire connected graphics cards for boosting overall graphical performance at the cost of multiplied graphics-based power consumption as well as the price of the cards themselves.
The MSI Z97 PC Mate involves 8 USB 2.0 slots and 4 USB 3.0 slots. USB 3.0 slots are capable of data transfer speeds of up to 5 Gbit/s, which is 10 times faster compared to USB 2.0 top speed of 480 Mbit/s.
Specifications
CPU Socket – LGA 1150
Graphics Card Interface – PCIe v3.0
CPU Compatible Make – Intel
SLI Support – 1 graphics cards
CPU Chipset – Intel Z97
Crossfire Support – 2 graphics cards
Form Factor – ATX
Onboard GPU – yes
Max RAM – 32 GB DDR3
PCI Slots:
2 x PCIe x1 v2.0
1 x PCIe x16 v2.0
1 x PCIe x16 v3.0
RAM Slots – 4 x DDR3
Compatible RAM Speeds:
DDR3 1333 MHz
DDR3 1600 MHz
DDR3 1866 MHz
DDR3 2133 MHz
DDR3 2400 MHz
Buying Guide – Points You Need to Consider While Buying a Motherboard
1. Consider your budget first
If you're on a budget you can go for a less expensive motherboard offering you awesome features. Consider searching forums and reading hardware reviews, to find some inexpensive boards that perform great. Also, you can go for the above-listed products which are less expensive and offers great features.
2. Form Factor
The form factor is the next thing you need to consider. ATX motherboards and micro ATX are commonly available. The ATX board is most prominent, and it involves the addition of more expansion slots, which can be beneficial.
3. Features
If you decide to buy a motherboard with built-in features, there is no need to buy additional expansion cards. Best motherboards combine both Wi-Fi and Bluetooth features as well, making them more expensive but also reduces the need for expansion cards.
4. Processor Socket
Only 3 sockets are applicable such as LGA, PGA, and BGA. Intel uses LGA, whereas AMD uses PGA. Depending on what type of socket is available on your motherboard, it will determine the type of processor.
5. RAM
The motherboard you are planning to buy should accommodate at least 16 GB, even if you're not interested in buying initially so that you have the option to use this memory later. In addition to this, search for a board that offers 4 or more memory slots. This allows you to install 2 RAM modules to begin and you will have a spare room for memory upgrades in the future.
6. PCI Slots
If you're a gamer, you'll need at least one full-speed PCI Express x16 slot and also multiple, if you want to connect multiple cards. Motherboards provide you with standard PCI slots and smaller PCI express slots for other cards, like Wi-Fi adaptors, sound cards, and other connectivity expansions.
7. SATA
Each SATA port connects an optical drive and storage drives, like an SSD or HDD. So it's essential to consider that your motherboard has all the SATA ports you require for your drives. Also, make sure that your motherboard offers the SATA 6 gigabytes standard, which is also called SATA 3.0. In addition to this, you might need to consider peripheral connections, like a USB 3.0.
8. Is it Compatible With Your Operating System?
It is also important to consider whether your motherboard is compatible with your operating system. Recent motherboards include drivers for the current and recent Windows versions. If you are using a different operating system (Linux, UNIX, BSD, etc.), check the motherboard manufacturer and the hardware forums for the OS.
9. RAID Support
This is a set of protocols for arranging multiple hard drives into "arrays" to ensure fault tolerance and/or increase the speed of data access from the hard drives. Many motherboards have hardware RAID controllers built-in, this saves the cost of installing an add-on RAID controller if you plan to use RAID.
FAQs
1. Does all Motherboard Provide good WiFi?
Yes. The built-in wireless adapter on modern WiFi-ready motherboards provides the same quality as a good-quality dedicated/discrete PCIe wireless card. If you are still in doubt of a certain motherboard's WiFi capability, check reviews. But, a high-end WiFi-ready motherboard will provide an excellent wireless adapter.
2. Do All Motherboards offer Bluetooth connectivity?
No, not all motherboards have Bluetooth connectivity. Check the motherboard specs before buying. Also, you can buy a PCIe WiFi adapter that has Bluetooth, or a separate USB Bluetooth adapter.
3. Onboard Motherboard Audio is it Good for Gaming?
All modern motherboards come with built-in onboard audio (referred to as the audio codec), and are quite good. For most good PC gaming headsets, onboard motherboard audio works great.
4. Do All Motherboards provide an Ethernet Port?
Yes, every modern motherboard comes with a LAN port for connecting an Ethernet cable (for wired networking/internet). These days, the port will be at least a 1G port, allowing for up to Gigabit speeds.
Conclusion:
The motherboard is a PC's most important component. Nothing else works without a motherboard. It also decides what upgrades you can make in the future. Make sure you do your homework while selecting a particular model and possess all features that you desire, especially if you have extra requirements compared to the average PC user. You can go for the best motherboard for i7 4790K listed above. These are budget-friendly providing you with great features. Also, don't forget to check the buying guide mentioned above. This will help you in figuring out the best motherboard that will suit your PC.

David Shaner is a Senior Author of Best FREE Reviews. He lives in the United States of America. He's best known for Technical Content Writing. He also writes reviews about various products online, gathering information from thousands of customers and compiling them into one.